Flexible Radius Molding
is sold nationwide through our network of dealers
and distributors.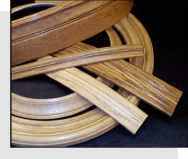 Flex Trim costs less than radiused wood millwork, can be manufactured in far less time and is available in literally thousands of styles. Download our catalog or view it on-line.
Flex Trim flexible molding not only costs less, it also out performs real wood. There is none of the deterioration associated with real wood --virtually no seams to crack, it won't rot or swell, yet it has the beauty of real wood and can be painted or stained for the look and feel of real wood.
Flex Trim offers two kinds of flexible material -- original Flex Trim our standard grade of flexible molding and ZzzzFLEX, our new super strong - super durable - flexible molding.



For information on the dealer nearest you please call 1800-356-9060 or e-mail us at sales.
Using our on-line search engine. With over 5000 styles at last count, we probably have what your looking for. Search for moldings by type and size, or by number for pricing.




Need help in calculating material length needed for your application? Let us help guide you though the process.
Use our
installation tips guide
to show you how. This covers cutting, fastening and finishing the product. See our
FAQ's
(frequently asked questions) guide for information on ordering and product limitations.
contact us hours of operation, phone and fax numbers, addresses for manufacturing and administration.