---
Download Our Catalog in PDF format
Whole catalog including "How to Order Guide":


West Buying Guide 2007 (10.5mb)

Individual Sections:
Intro Section
(804kb)
Table of Contents
(99.2kb)
Base Section
(2.34mb)
Casing Section
(3.83mb)
Crown Section
(804kb)
All Other Molding
(246kb)
---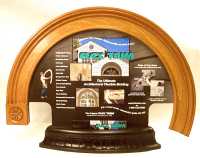 Flex Trim Display

This component beautifully displays a stained wood grain radius piece of flexible molding, anchored by a rosette. Which is mounted to a full color poster background. Sustained on a solid base with a built in tri-fold holder, that comfortably holds 50 of our tri-fold brochures. This display promotes an economical way to be there when your sales force can't be and most importantly is there when a buying decision needs to be made. $100. each (no discount).
---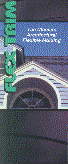 Flex Trim Brochure
This piece of advertising delivers what Flex Trim is and how to use it. Four color inside and out, 300 line screen printing and fits well in the display with grab appeal. Comes in pre-packed units of 50. FREE
---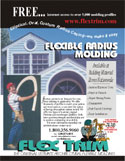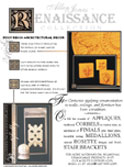 Flex Trim/Renaissance Catalog Inserts
Front and back full color
For high-performance coverage include these in your own catalog, sales binders, etc. 8.5 x 11 FREE
---
Flex Trim Sales Video
"The Magic of Flex Trim" runs in a 15 minute loop, and is an entertaining informative way to promote the product and pique interest.
---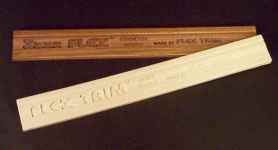 Logo Samples
18" X 2-1/4" WM356 casing, offered in Flex Trim pine grain and Zzzz Flex oak grain. Distributors may have there company name and logo put on them, ask our national sales manager for the details.
---